EVENT LISTING: September Sound Baths & Workshops are now scheduled. Most tickets are available on Eventbrite.
For information and for tickets on the Sound Biz Group Coaching, the on-line Brain Health series, and on the Men's workshop (co-facilitated with
Eric Bensoussan
) please contact me directly: 604-780-0686
COACHING & CONSULTING: "There is no order of difficulty in miracles (problem solving)." From: A Course In Miracles. As humanity prepares to become an inter-galactic civilization, evolutionary leaders are called to approach problems, challenges, and opportunities from a non-dualistic / unitive perspective.  Consciousness Coaching, Non-Dualistic Consulting and Alchemy Sound Meditation serve to assist humanity's current potential evolution by activating the latent biophotonic and supramental capacities of body, brain, and mind.
SOUND: Colin Hillstrom plays some of the world's finest sound healing tools, the Crystal Tones brand of alchemy singing bowls. His set of 14 bowls contain precious and semi-precious stones, including platinum (activating divine feminine consciousness/accessing highest creative powers), 24 karat gold (connecting with spiritual abundance), azeztulite (activating I Am consciousness), pink tourmaline (emotional healing), serpentine (activation of kundalini energy), and indium (enhancing cellular health)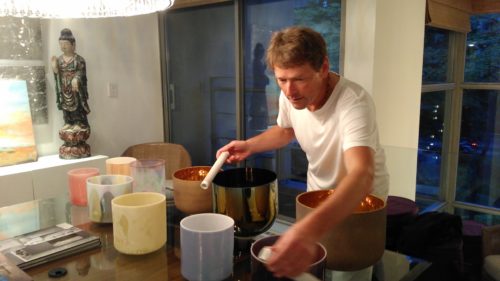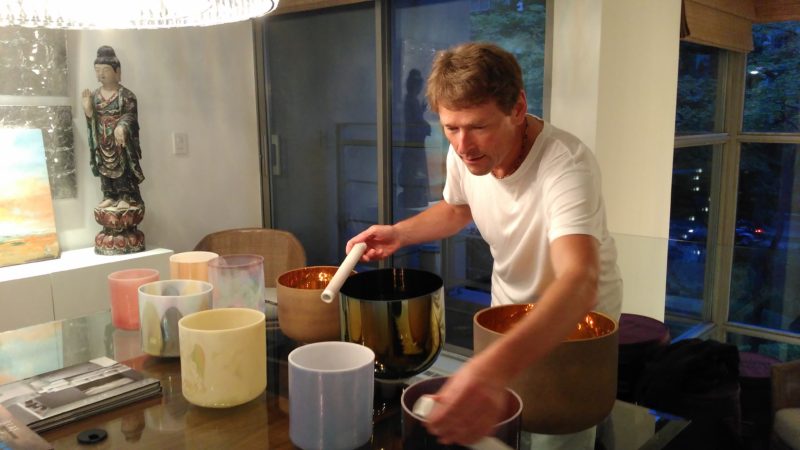 VIDEOS
Watch Colin speak about emotional intelligence and the levels of conscousness as he prepares for a workshop on managing your inner power
Watch Colin speak on the subject of anger and health 
Watch Colin play sound bowls and speak about brain health, pt 1
Watch Colin play sound bowls and speak about brain health, pt 2