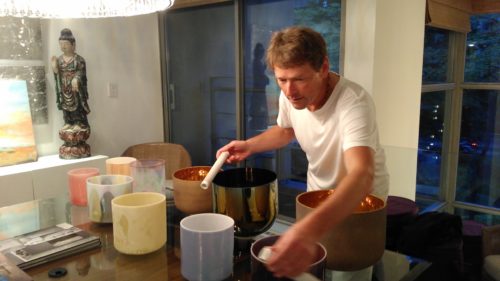 "I believe that sound is the most underutilized and least appreciated mind-body tool." Dr. Mitchel Gaynor, MD, author of "The Healing Power of Sound"
For a complete event listing go to my Events page.
For tickets to most upcoming events, please click on this Eventbrite link.
To purchase my CD CRYSTAL SOUND JOURNEYS, plick on my Bandcamp link
To discover more about the bowls and the chakras, view or download the pdf find your note
ABOUT SOUND
The intention for a Chakra Sound Bath is to clear and align the seven power points of the human energy system (chakras) to accelerate:
Self-healing
Brain development
Personal transformation, and
Biophotonic activation
Attending sound baths and meditations, and listening to high quality recordings such as my album CRYSTAL SOUND JOURNEYS can awaken higher intuition and creativity.
Here's a brief video clip featuring one of the themes that I have recorded.
BENEFITS OF CRYSTALLINE SOUND VIBRATION
Humans are like a walking symphony. We are vibrational beings. But most of us are missing certain notes/vibrations that are needed in order to achieve the results that we want in life. At my crystal sound baths and crystal sound meditations your body/mind/brain complex has access to the entire sound palette from which it can reclaim its missing notes. As you relax into the sound experience, you will rise to higher and higher levels of balance and harmony. Over time… the more frequently you immerse yourself into the crystal sound experience, the more rapidly you will achieve the change you want, and sustain it. Check out the event tab and the album tab for details.